Ready to stage your home like a professional? Whether you are considering selling your East Side Milwaukee home or want to make your space look beautiful, staging can significantly impact your home by highlighting its best features. Not only does it make rooms feel bigger, but staging also creates cohesion in the space. A staged room gives each furniture and decor piece purchase and can even make people feel more connected to the home. While many people understand the importance of staging your living room and bedrooms, the kitchen is one of the most overlooked rooms for staging. Learn why staging your kitchen is essential and how to stage your kitchen like a pro.
Why staging matters
If you are considering selling your home, there are some steps you need to take before listing your property. First and foremost is hiring a local real estate agent who understands the inner workings of your local real estate market. Once you have chosen an agent, they will likely provide suggestions to sell your home quickly and for top dollar, including hiring a professional photographer to take quality images of your home, cleaning your home from top to bottom, and staging your home. Staging your home is essential whether you are in a buyer's or a seller's market. Staged homes create cohesion in the space and can help buyers visualize their furniture and decor, making it easier for potential buyers to imagine themselves living in the house. Making a buyer feel welcome is the goal of any real estate listing.

While it might not seem obvious on the surface, your kitchen is the room that benefits the most from professional staging. Kitchens are one of the most important rooms in the house. They are often a gathering space for the family or when you host guests. Making your kitchen the focal point of your home can mean the difference between receiving an offer or having your buyer move on to another property. Fortunately, kitchens are one of the most affordable rooms in the house to stage. Unlike living rooms and bedrooms, which require new furniture, simple swaps can make a major difference in staging your kitchen. Here are some foolproof tips for staging your kitchen.
Declutter your kitchen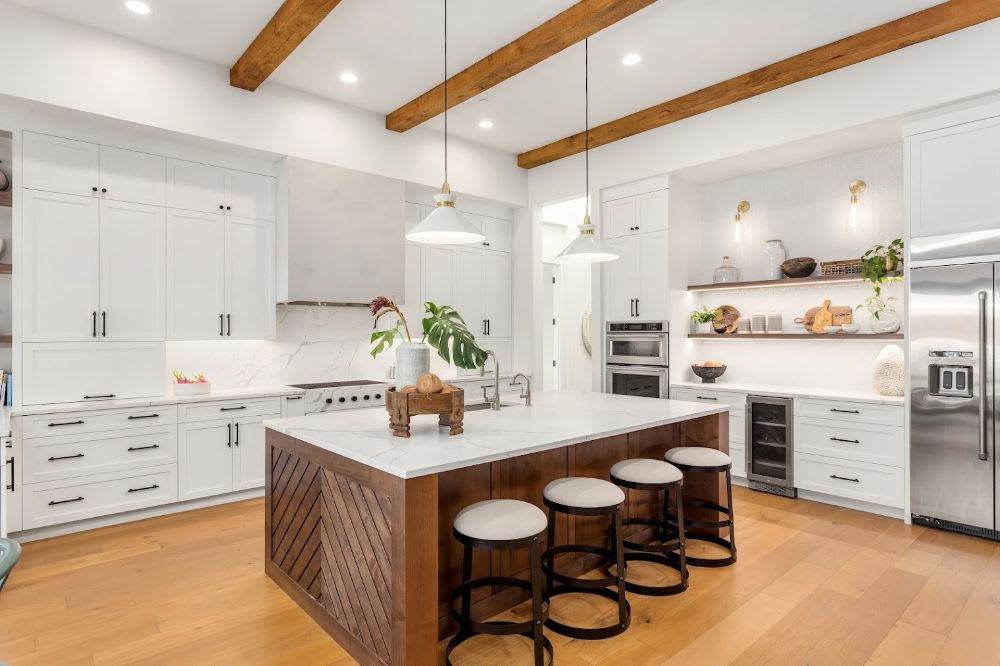 When searching for a home, the kitchen is one of the most important rooms for buyers. Many buyers spend the majority of their time in the kitchen. As such, they want the space to feel relaxing and inviting. Having a cluttered kitchen conveys the opposite of inviting. Whether you have dishes in the sink or cereal boxes monopolizing the counter space, buyers want to avoid seeing messy kitchens. Even if you are a naturally clean person, cluttered spaces are a major red flag for buyers. The first step to staging your kitchen is decluttering it. Make room for all of your dishes in the cabinets. If you have a pantry, reorganize it. Throw away food you no longer want to make room for the food that is sitting on your counters. You might even find extra space for your dishes and appliances.
Buy aesthetic storage containers
If you have limited cabinet or pantry space, it can be tempting to leave food items on the kitchen counters, such as cereal or rice. This is especially true if you and your family are always on the go and need to grab something quick. While leaving these items on the counter makes sense to you, buyers will not see things from your perspective. When buyers see food left out on the counter, the first thing that will come to mind is clutter. When your food staples are not in the cabinet or pantry, the first thought many buyers will have is storage space. If you do not have room to store your cereal or rice, they might wonder if they will have the same problem if they buy the house.

The last thing you want is to make your kitchen seem smaller than it is. Sometimes, you might not have enough room to store your sugar, flour, rice, or other staples. In this case, purchase aesthetically pleasing storage containers. This could include glass or porcelain jars. These containers will make your food storage solutions seem purposeful rather than haphazard. Storage containers are an elegant solution to potential storage issues. They are also an easy upgrade to any kitchen space.
Pops of color make a huge impact
When it comes to kitchen staging, less is more. You do not need to go overboard when staging your kitchen, yet simple changes go a long way. Try adding pops of color to the space. If you have a traditional, white marble kitchen with light cabinets, pops of bright color can make the room come to life. Warm colors, such as red, orange, yellow, or pink, make a big statement. Cool colors, such as blues and greens, can complement the space, adding a touch of elegance. Add flowers or bowls of fruit. Lemons or limes make lighter kitchens pop. You could also get colorful food containers. Wherever you add color, make it feel organic to the space. You do not need statement art pieces monopolizing the room. Simplicity is key.
Hide your kitchen appliances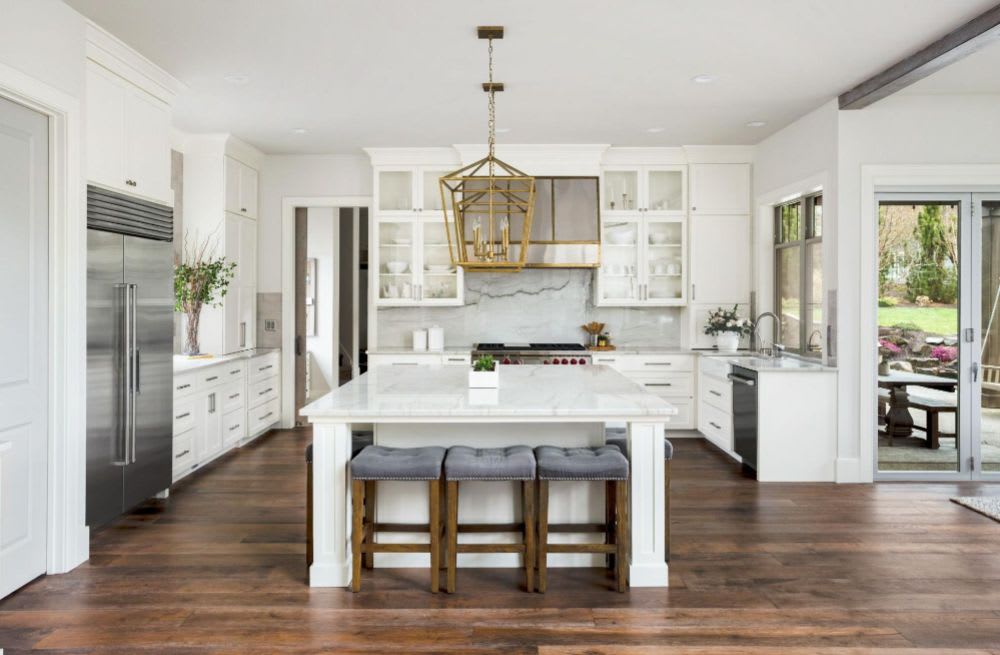 Do you use your blender every day? How about your toaster or your crockpot? Put them away. While leaving your kitchen appliances on the counter is convenient, especially when you have limited storage space, they take up a lot of space in your kitchen and can make the room feel cluttered. When buyers see kitchen appliances monopolizing the kitchen counters, this tells buyers there is not enough storage space in your cabinets and pantry, which is the opposite of what you want to convey in your kitchen. Storing your kitchen appliances opens up the room and makes your kitchen feel spacious.
That said, if you have beautiful, high-end appliances, such as a KitchenAid mixer, find a practical place to display them. Professional-grade appliances give your kitchen a luxurious ambiance.
Of the many rooms in your home, kitchen staging gives you the biggest bang for your buck. Whether reorganizing your kitchen pantry or adding splashes of color to the space, a little change makes a major impact.
Work with a trusted real estate agent
Ready to move? Trust the
Shar Borg Team
to help you find your dream home in the heart of Milwaukee. Whether searching for homes in the Historic Third Ward or Milwaukee condos, Shar Borg knows
Milwaukee real estate
.
Contact Shar
today for a free consultation.